At UNISOT, we are dedicated to empowering the Fashion and Textile Industry with cutting-edge technology and innovative solutions. Our platform revolutionizes traceability, verification and labeling across the entire fashion supply chain.
Understanding Fashion
Fashion represents a diverse and ever-evolving industry, encompassing clothing, accessories, cosmetics and more. It thrives on creativity, design and consumer trends. UNISOT's FashionOnChain solution is designed to uphold these values while ensuring transparency and compliance throughout the fashion supply chain.
Traceability and Transparency
FashionOnChain offers end-to-end traceability and transparency throughout the Fashion supply chain. From sourcing raw materials, production, distribution, sale, use and reuse/recycling, you can confidently showcase the journey of your products, giving your customers the peace of mind, they deserve.
TRACEABILITY AND VERIFICATION
Building Trust through Traceability
Our platform addresses the challenge of traceability in the fashion industry. By recording and storing transactions on an immutable blockchain ledger, we create a transparent, auditable and tamper-proof trail of fashion products from design inception to end-consumer.
Embrace Sustainability
Join the movement towards a greener future. UNISOT's FashionOnChain solution enable you to implement sustainable practices that can help you manage and reduce the environmental impact. Be a part of the change and attract eco-conscious consumers who appreciate your commitment to a more sustainable Fashion and Textile Industry.
STREAMLINED LABELING PROCESS
DATA CAPTURE & COLLABORATION
Simplified Fashion Labeling
FashionOnChain streamlines the fashion labeling process by integrating digital labeling technologies, Blockchain and AI. Our solution ensures accurate and up-to-date labeling information is accessible to fashion designers, manufacturers, retailers and customers.
Securely Capturing Data
Our solution ensures the secure capture of crucial data throughout every phase of the fashion supply chain. By employing a Universal Source of Truth methodology, our platform aggregates information on a global data layer through distributed storage, promoting trust-driven collaborations among stakeholders.
ENHANCED CUSTOMER ENGAGEMENT
Regulatory Compliance
Stay ahead of regulatory requirements effortlessly. Our platform automates documentation, making compliance a seamless process. With FashionOnChain, you can ensure your products meet all necessary industry standards, gaining credibility and trust from regulatory bodies and customers alike.
Build Consumer Trust
Connect with your customers like never before. UNISOT's FashionOnChain provides a direct communication channel that fosters trust and engagement. Share the story of your products, their origin and the craftsmanship behind them, creating a unique bond with your customers.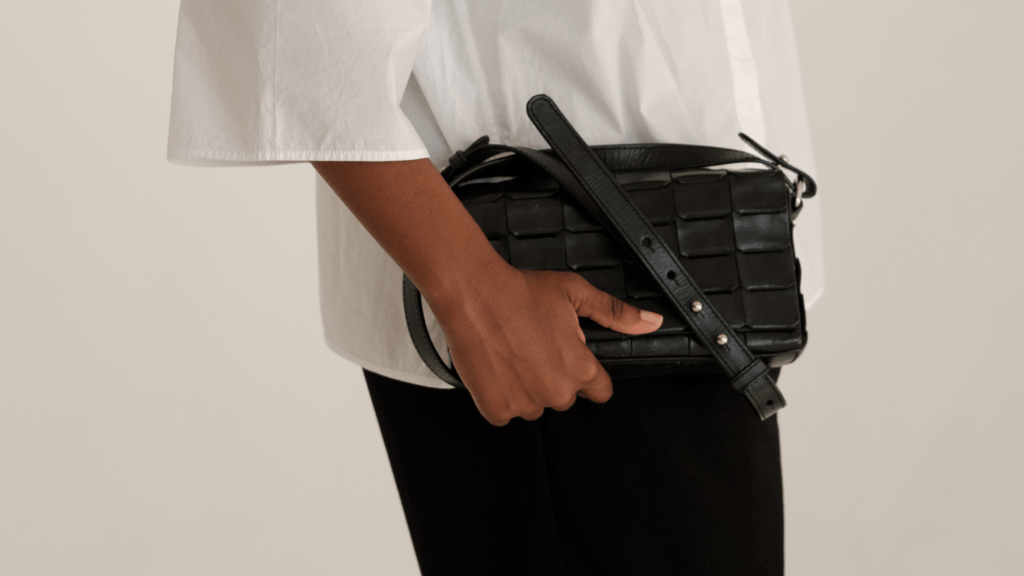 EU'S NEW STRATEGY FOR SUSTAINABLE AND CIRCULAR TEXTILES
The European Union (EU) is weaving a new fabric for the future of the fashion industry with its latest strategy aimed at promoting sustainability and circularity in textiles. As the world grapples with environmental challenges, the EU's vision for the textile sector by 2030 is clear: a shift towards a climate-neutral, circular economy where textiles are not just worn, but also reused, recycled and respected.
KEY HIGHLIGHTS OF THE EU STRATEGY:
DIGITAL PRODUCT PASSPORT (DPP)
A cornerstone of the EU's new vision, the DPP will electronically register and share product information across the entire supply chain. This digital tool ensures transparency, traceability and accountability at every step, from the manufacturer to the end consumer.
ECODESIGN FOR SUSTAINABLE PRODUCTS REGULATION (ESPR)
This regulation mandates businesses to disclose information on the destruction of unsold products.
EXTENDED PRODUCER RESPONSIBILITY (EPR)
Manufacturers will be responsible for the entire lifecycle of their products, from design to disposal, promoting sustainability at every step.
GREEN CLAIMS & PRODUCT ENVIRONMENT FOOTPRINT (PEF)
By 2023, fashion brands will face stricter rules on sustainability claims. Only textiles with a certified EU Ecolabel can make general environmental claims, ensuring genuine eco-friendly products reach customers.
ENHANCED LABELING AND ECOLABEL CRITERIA
By 2024, the EU aims to revise the Textile Labelling Regulation and introduce the EU Ecolabel Criteria, guiding customers towards eco-friendly textile choices.
MICROPLASTIC LEGISLATION
Given that textiles are a significant source of microplastic pollution, the EU aims to introduce binding requirements by 2024/2025 to address this issue.
BAN ON DESTRUCTION OF UNSOLD TEXTILES
In a move to reduce waste, the EU proposes to prohibit the destruction of unsold consumer products, including textiles and footwear.
FashionOnChain provides end-to-end traceability, allowing brands to track their products from raw materials to the retail shelf. This aligns perfectly with the EU's emphasis on transparency and the Digital Product Passport. Moreover, the platform's focus on sustainability ensures that brands can showcase their commitment to eco-friendly practices, aligning with the EU's vision for recyclable and reusable textiles.
DIGITAL PRODUCT PASSPORT
The Digital Product Passport (DPP) is based on the UNISOT Smart Digital Twin technology. By facilitating a unique identity on every single asset, product or item – in the form of a unique Smart QR code or RFID/NFT chip – customers are able to access all relevant and specific product information in the UNISOT Digital Product Passport by simply scanning the Smart QR code or RFID/NFT chip with their smart phone.
1. PRODUCT BRANDING
Provide Product & Marketing information. The brand history and founder story, with pictures, videos, illustrations, care instructions.
2. PROVABLE PRODUCT INFORMATION​
The item-unique Smart QR-codes, enables item distinct product data such as quality attributes, parts, provenance, chain-of-custody, sustainability values.
3. CONSUMER COMMUNICATION CHANNEL​
Enable customers to give feedback ​about their experience of the product . ​To gain quality consumer insights and strengthen customer engagements.
4. LOYALTY CERTIFICATES
To establish an emotional connection with ​customers and strengthen brand loyalty we enable customers to buy a 'Loyalty Certificate' to support a producer, the workers or a charitable causes such as UNICEF, WWF, Save the Children, etc.
5. BUYING ONLINE
Enable customers to re-order the product and/or suitable accessories online.
6. GAMING​
Enable customers to participate in gaming e.g., Lucky Number.
7. SOCIAL MEDIA SHARING​
Enable customers to share their positive impression of a product to their friends.
8. CIRCULAR ECONOMY/RETURN PROCESS
Enable easy and streamlined return process for customers to return used items for re-use or recirculation.
9. QUALITY CONTROL
Enabling transparency, traceability and collaboration thus helping companies maintain and improve the quality of their products.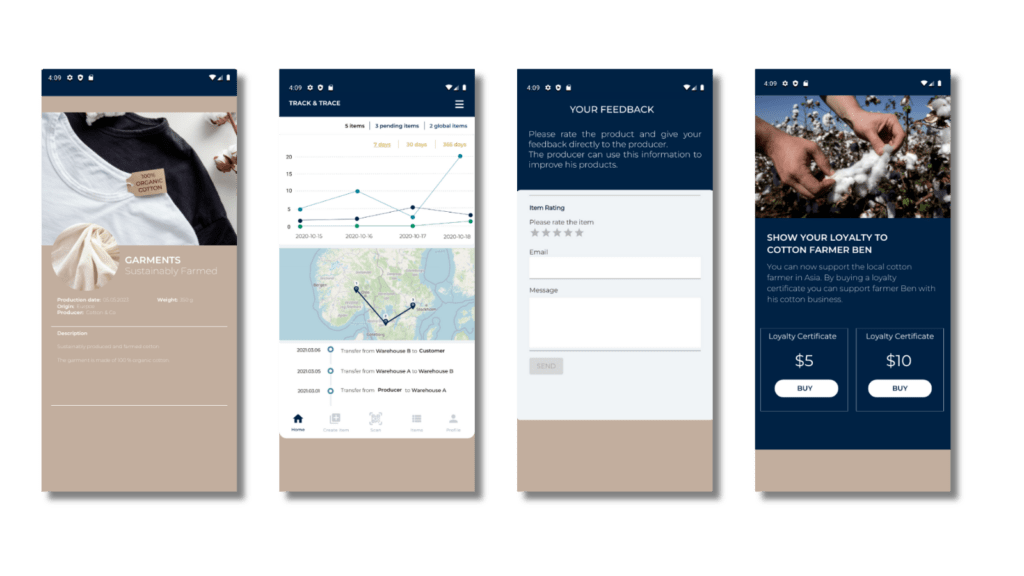 WHY CHOOSE FASHIONONCHAIN?
PIONEERING TECHNOLOGY
UNISOT is at the forefront of Public Blockchain innovations in combination with AI in the form of Federated Learning, empowering the fashion industry with solutions such as Global Inventory Management, Global Traceability, Digital Product Passport, Quality Control, Customer feedback, and Sustainability Reporting, etc.
INDUSTRY EXPERTISE
Our team comprises experts from both technology and supply chain industry, ensuring comprehensive understanding and support for your business needs.
GLOBAL IMPACT
FashionOnChain establishes a unified global data layer, facilitating efficient decision-making and enhancing the integrity of the fashion ecosystem.
Our Blockchain and AI-powered Industry Solutions provide a comprehensive and transparent approach to help fashion companies embrace sustainability, comply with regulations, ensure the integrity of their products, and build stronger connections with customers.