GLOBAL INVENTORY MANAGEMENT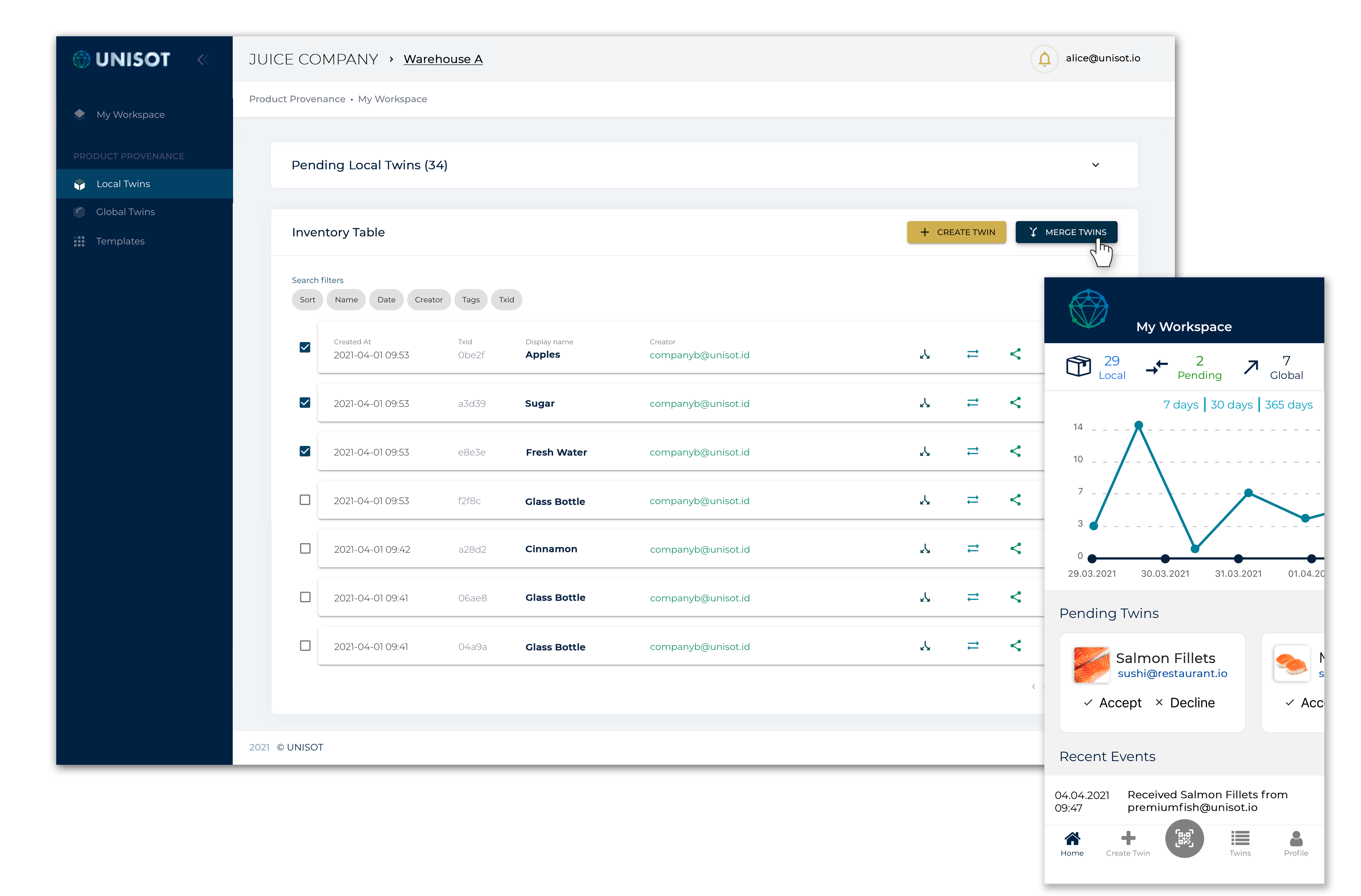 SMART DIGITAL TWIN (SDT)

Global Inventory Management [GIM] is based on the UNISOT Smart Digital Twin technology that enables any type of Asset, Product or Item to have a Digital Representation in the Global Data Lake. The Smart Digital Twin securely stores any kind of information related to an object, it can be split and merged, and it enables you to securely transfer the ownership of all or part of this information to other actors in the supply chain or to authorities.
ON DESKTOP AND MOBILE

Global Inventory Management can be used via a desktop or mobile application, enabling management to administer company asset flows, manage ownership transfers, get instant KPI and field personnel to securely report important information that can not be collected automatically via IoT sensors or API integrations.
You, as the creator and owner of the information, have full control of who you share with or who you sell this information to and to what price.
Digital Twins  I  Transfer Ownership  I  In-Depth Data The Global Inventory Management module enables you to collect, store, share or sell important information about your products; from a batch level down to single individual item level. Any kind of information can be handled, such as ingredients/parts, dimensions, weight, location, temperature, certificates, videos, etc.
CREATE TWIN
The creation of Smart Digital Twins is done automatically via our ERP plugins or API integrations with production systems. Smart Digital Twins can also be created manually in the UNISOT Collaboration Dashboard or in the UNISOT Collaboration Mobile App when automated creation/data collection has not yet been implemented.
ADD DATA
Ingredients/parts, location, weight, dimensions, temperature, energy consumption, water consumption, CO2, certificates, videos, etc. can be added automatically or via manual actions. Industry standard templates such as ISO and GS1 are available. Create your own custom libraries to ensure required information is collected and validated.  
TRANSFER TWIN
Ownership of the Smart Digital Twin can securely be transferred to another actor in the supply chain network, including selected information e.g. the ownership of a pallet with ordered products or a freight container. Associated information and documents are automatically, securely and auditable transferred to the new owner.  
SPLIT TWIN
A Smart Digital Twin can be Split into multiple Child Twins, for example when a production batch of a product is packed into many thousands of separate packages, each new package is now a new Child Twin. The new Child Twins are inheriting all important information and documentation from their Parent Twins, such as temperatures, locations, etc.  
MERGE TWINS
Two or more Smart Digital Twins can be Merged together into new Smart Digital Twins, e.g. when a new product is created by several components or ingredients each of these individual assets or products Digital Twins and their attached information, such as processing methods, locations, etc. will be merged/inherited into the new Smart Digital Twin. 
PRODUCT DNA
All related historical and provenance information for each of the ingredients/components related to a specific asset or product is available to the current owner and can be proved, viewed and analyzed. This functionality also provides a user-friendly way of viewing the complete product DNA tree of a product, verifying each ingredient/component.
SHARE TWIN
Information of a Smart Digital Twin can be shared selectively as a private secure link, or as a public link intended for anyone. The public link can be used as a unique printed QR code or as an RFID incorporated in a product. Customers or consumers can scan the QR-code/RFID with their phone to get detailed proven information about this specific package.
COMMUNICATION
Provides a direct chat and communication channel between all actors involved with a specific Smart Digital Twin. Each actor can exchange important updates or ask specific questions regarding a specific Asset, Product or Item throughout its complete lifecycle. This increases the communication efficiency considerably and leaves an auditable communication trail.