Francesco Pepe, an olive oil producer from Luogosano, Italy, renowned for his commitment to quality and sustainability, is looking to expand his market reach while maintaining the authenticity and provenance of his products. To address this challenge, Francesco partners with UNISOT's AgriOnChain, a leading provider of Web3 Supply Chain Traceability solutions.
Empowering Product Differentiation and Transparency
Francesco Pepe seeks to differentiate his olive oil products in the competitive market by highlighting their premium quality, Italian origin, and adherence to sustainable practices. He collaborates with UNISOT's AgriOnChain to leverage the Digital Product Passports (DPP) feature to create unique Smart QR codes for each product.
Benefits:
Provenance Verification: Consumers can scan the Smart QR code on the olive oil bottle and access real-time information about the product's journey from the olive groves to the packaging and transport. This transparency assures customers of the product's Italian origin and quality.
Environmental Protection: Consumers can know how Francesco and his team cultivate their agricultural land to preserve biodiversity following EU laws about safe environment (i.e., minimum tillage or strip tillage).
Slow Food Movement Integration: Francesco Pepe's dedication to the Slow Food movement is highlighted through the DPP. When customers scan the Smart QR code, they gain insights into the Slow Food principles he follows, fostering a deeper connection between the brand and consumers who value sustainable practices.
Awards integrations: Each year, Francesco Pepe participates in olive oil competitions, not only in Italy but also internationally. Customers can learn about these events.
Enabling Consumer Engagement and Financial Support
Francesco Pepe aims to create a loyal customer community that actively supports his olive oil farm and engages with his brand. He utilizes AgriOnChain's Loyalty Certificates feature to reward customers who provide feedback and financially contribute to his farm's growth.
Benefits:
Customer Loyalty: Passionate customers eager to back Francesco Pepe's products and his agricultural endeavours can effortlessly acquire Loyalty Certificates, akin to tokens, in the DPP. All funds from these certificates are channelled straight to Francesco Pepe's farm and his dedicated team.
Social Sharing: Customers can proudly share their Loyalty Certificates to friends & family and on social media, demonstrating their support for Francesco Pepe's olive oil products and farm. This organic sharing not only strengthens customer relationships but also introduces new consumers to the brand.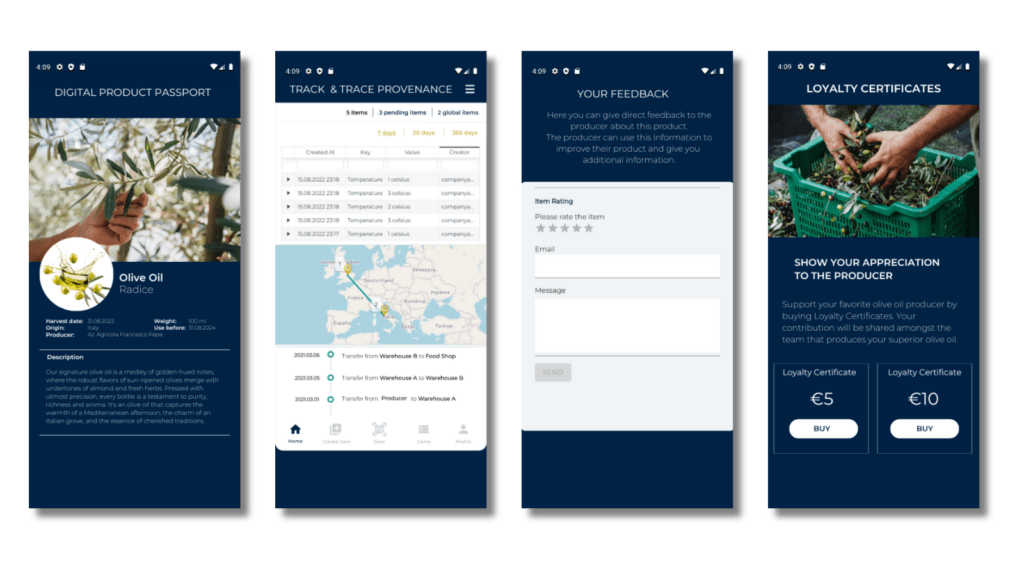 Mitigating Counterfeit Risks and Ensuring Product Authenticity
As counterfeit olive oil products pose a risk to Francesco Pepe's brand reputation, he leverages AgriOnChain's Smart QR-codes to safeguard against counterfeit goods infiltrating the market.
Benefits:
Anti-Counterfeit Measures: AgriOnChain's Smart QR-codes are equipped with real-time tracking capabilities. If a Smart QR code is duplicated on a counterfeit product, the system detects the anomaly can alert both the customer and Francesco Pepe, preventing the proliferation of counterfeit goods.
Digitalizing Business Operations for Efficiency and Sustainability
Francesco Pepe aims to digitalize and streamline his production processes and gather important production data for reporting and sustainability purposes. UNISOT's AgriOnChain helps him achieve this digital transformation.
Benefits:
Field Data collection: Important production events can be collected in the field via a Mobile App and by placing Smart QR codes on tool, equipment and locations.
IoT Data collection: Important production data can be collected from IoT devices and other IT systems.
Trust, Security, and Scalability
Francesco Pepe is concerned about the security and scalability of the technology behind his traceability solution. AgriOnChain addresses these concerns.
Benefits:
Secure Public Blockchain: AgriOnChain operates on a secure Public Blockchain, ensuring data integrity, scalability, and cost-effectiveness. Francesco Pepe can focus on his business while the blockchain technology operates seamlessly in the background.
"AgriOnChain's innovative traceability solutions have enabled me to share the story of my premium Italian olive oil with the world. With Digital Product Passports and Smart QR-codes, I can highlight the authenticity, quality, and sustainability of my products to customers everywhere. Through this partnership, I have not only expanded my market reach but also deepened the connection with my customers, creating a community that values the traditions and principles I hold dear. UNISOT's AgriOnChain technology empowers me to focus on what I do best – producing exceptional olive oil – while they handle the technology seamlessly behind the scenes." – Francesco Pepe, Az. Agricola Francesco Pepe
By partnering with UNISOT's AgriOnChain, Francesco Pepe's olive oil business experiences a transformation in authenticity, customer engagement, efficiency, and sustainability. The platform's innovative features, including Digital Product
Passports, Loyalty Certificates, and Smart QR-codes, enable him to expand his market presence, build consumer trust, and champion sustainable practices – all while harnessing the power of secure blockchain technology.