EVERY BOTTLE TELLS A STORY

By combining wine's rich history with the trust of blockchain, WineOnChain is the next step in enjoying authentic and traceable wines.

In a global market that's increasingly conscious about the origins and integrity of products, establishing transparency and trust is paramount. This holds especially true in the wine industry, where the provenance, aging process and sourcing are vital for enthusiasts, collectors and casual drinkers alike.
To ensure the integrity and provenance of wines, UNISOT presents WineOnChain. This groundbreaking solution harnesses the power of blockchain technology to redefine traceability and verification in the wine industry. By securely capturing pivotal data throughout the wine supply chain and anchoring it on an immutable ledger, WineOnChain guarantees global traceability and offers consumers verifiable information through the UNISOT Digital Product Passport.
THE ESSENCE OF WINE VERIFICATION
Distinguishing a wine's origin, variety and aging process can be quite a challenge in today's vast wine market. Traditional supply chain methods often fall short in assuring the authenticity of a wine, leading to potential mistrust between vintners, distributors and consumers. WineOnChain steps in to bridge this gap by harnessing the power of blockchain and AI. It meticulously records transactions and ensures transparency at each step – from grape cultivation to bottle sealing. This meticulous process facilitates an auditable trail for wine verification, restoring trust in the system.
Accurate labeling in the wine industry is not just about the varietal or region; it's about trust. Existing labeling methods can sometimes be vulnerable to misrepresentation or even fraud. WineOnChain refines this process by integrating digital technologies such as RFID/NFT labels and Smart QR-codes, combined with blockchain and AI, to establish a robust labeling system. This solution facilitates collaboration between wine producers, certification bodies, and retailers, ensuring precise and current labeling information.
CAPTURING DATA ACROSS THE WINE SUPPLY CHAIN
From the vineyard's soil composition to the storage conditions of the final bottle, WineOnChain commits to recording essential data throughout the wine's journey. Adopting a Universal Source of Truth methodology, it dissolves data siloes, streamlining information onto a global, accessible layer. This structure ensures that stakeholders, from winemakers to consumers, can access verifiable and real-time data about their chosen bottle's journey.
With WineOnChain, the wine industry is poised to meet the demands of discerning consumers while promoting integrity and sustainability in the global market.
UNISOT's DIGITAL WINE PASSPORT
At the heart of WineOnChain is the groundbreaking UNISOT Digital Product Passport. Acting as a repository for every wine's journey, it encompasses data from grape variety, aging process, certification, to quality controls. With the integration of Smart QR codes and RFID/NFT technologies, a simple scan gives consumers immediate insights into their wine's story, fostering assurance and building brand loyalty.
SMART DIGITAL TWIN:

WINE'S VIRTUAL MIRROR
SMART DIGITAL TWINS IN

VINTICULTURE
Expanding on the concept of a "Smart Digital Twin", WineOnChain offers a virtual reflection of every bottle. This digital counterpart provides a continuous stream of data, ensuring stakeholders can monitor a bottle's entire life cycle, reinforcing adherence to industry standards. With the public blockchain and AI as the backbone, the platform removes information discrepancies, paving the way for trust-infused collaborations throughout the wine supply chain.
Smart Digital Twins are transforming the wine industry by offering real-time monitoring, quality assurance, process optimization, risk management, collaboration, and continuous improvement. They provide a novel and comprehensive approach to ensuring wine integrity throughout the supply chain, ultimately benefiting both businesses and aficionados in the wine market.
THE WINEONCHAIN.ID EXPERIENCE
The wine industry is global, with wines originating from various terroirs and regions. WineOnChain establishes a global data layer connecting all participants in the wine supply chain. This interconnected network fosters seamless information sharing, collaboration, and real-time updates, enabling stakeholders to access accurate data, facilitating efficient decision-making, and enhancing the wine industry's overall integrity.
WineOnChain is revolutionizing the wine industry by tapping into the potential of public blockchain technology. By addressing traceability, verification, labeling, and data capture challenges, this innovative platform ensures transparency, trust, and compliance throughout the wine supply chain. Through the UNISOT Digital Product Passport, consumers can effortlessly access detailed information about wines, fostering assurance and confidence. By embracing the Smart Digital Twin concept and a Global Data Layer, WineOnChain establishes a Universal Source of Truth, enabling collaboration and real-time updates across the industry.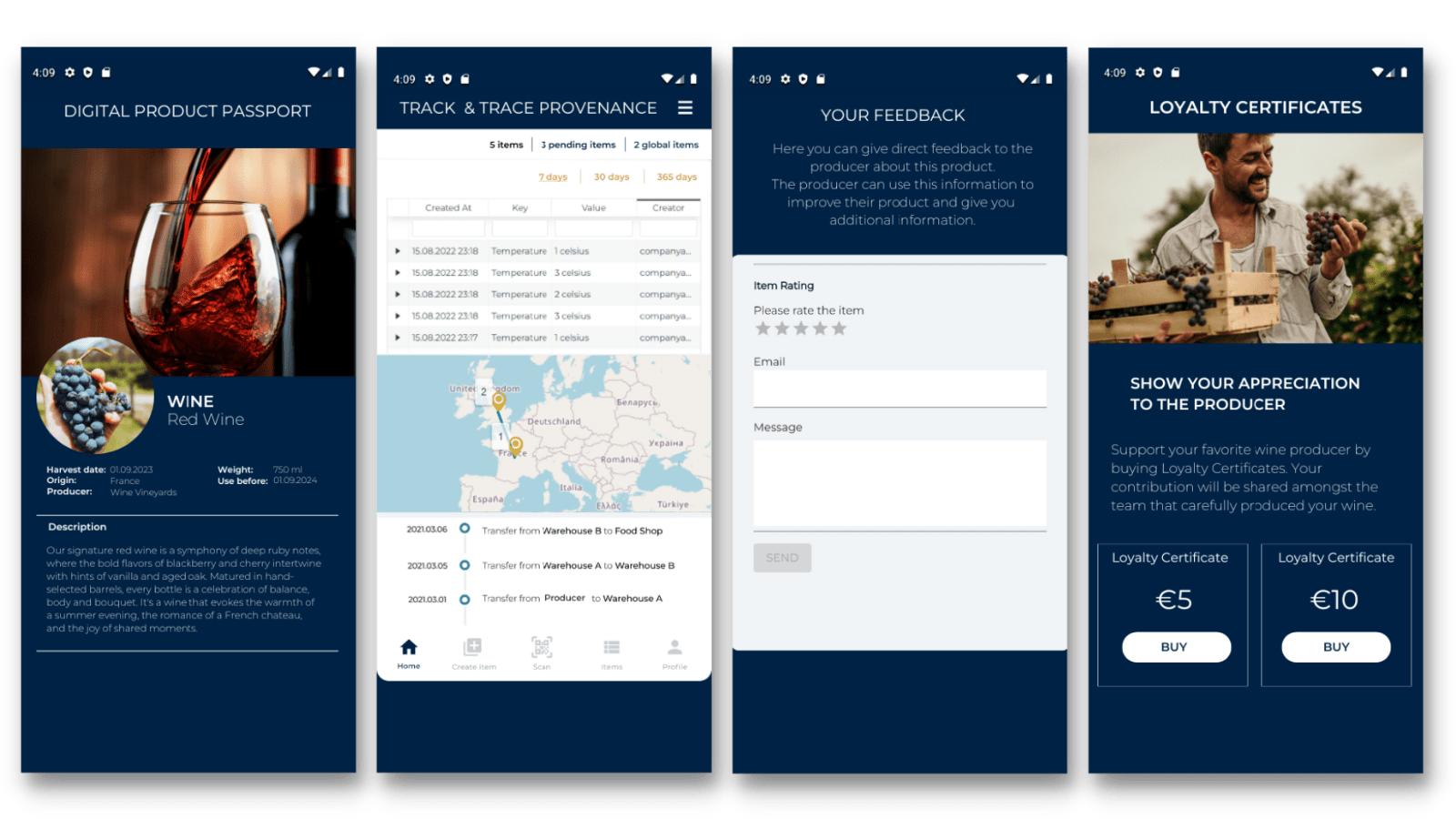 1. PRODUCT BRANDING
General Product & Marketing information. Product and Producer story. Pictures, Videos, Texts.
2. PROVABLE PRODUCT INFORMATION​
Package-unique QR-codes, enables package distinct Data, Attributes, Locations, Ingredients, Provenance, Chain-of-Custody, Sustainability.
3. CONSUMER COMMUNICATION CHANNEL​
Enable customers to give feedback ​about their experience of the product . ​To gain quality consumer insights.
4. LOYALTY CERTIFICATES
To establish an emotional connection with ​consumers. Enable consumers to buy a loyalty certificate to support a producer ​(or charitable causes e.g., UNICEF, WWF, Save the Children, etc.)
5. BUYING ONLINE
Enable customers to re-order the product online.
6. GAMING
Enable customers to participate in gaming e.g., Lucky Number.
7. SOCIAL MEDIA SHARING
Enable consumers to share their positive impression of a product to their friends.
8. CIRCULAR ECONOMY/PACKAGE DEPOSIT​
Enable consumers to get reimbursed when returning package materials to a recycling point
9. QUALITY CONTROL
Enabling transparency, traceability and collaboration thus helping companies maintain and improve the quality of their products.
WHY CHOOSE WINEONCHAIN.ID?
PIONEERING TECHNOLOGY
UNISOT is at the forefront of Blockchain innovations in combination with AI in the form of Federated Learning, empowering the Wine industry with solutions such as Global Inventory Management, Global Traceability, Digital Product Passport, Quality Control, Customer feedback, Sustainability Reporting, etc.
INDUSTRY EXPERTISE
Our team comprises experts from both technology and supply chain industry, ensuring comprehensive understanding and support for your business needs.
GLOBAL IMPACT
WineOnChain establishes a unified global data layer, facilitating efficient decision-making and enhancing the integrity of the Wine ecosystem.
Our Blockchain and AI-powered Industry Solutions provide a comprehensive and transparent approach to help
Wine companies embrace sustainability, comply with regulations, ensure the integrity
of their products, and build stronger connections with customers.