THE PRODUCT PROVENANCE MODULE
Improving Supply Chain Management is key for the efficiency of resources, economics and time. We enhance all the advantages of ERP systems and IoT solutions, using the scalable, immutable and secure benefits of a global data ledger.
The Product Provenance module will enable you to create a digital representative of each item or batch in the supply chain that follows the whereabouts throughout its complete lifecycle; we call that a Digital Twin, and a smart one.
Now you can securely add powerful and immutable data and thus create your own customized Library. You choose which data you want to share, and who can access this data.
FOLLOWING EXAMPLES OF DATA CAN BE ADDED:
Temperature
Volume
Weight
Dimensions
Location
Production methods
Energy consumption
Water consumption
CO2
Certificates
Files
Images
Videos
TRANSFER, SPLIT AND MERGE
When moving items from one stakeholder to the other it is necessary to be able to transfer ownership of data. This feature is built-in to our system and will ensure you know exactly when and which items have left your responsibility and are handed over to the next actor in the global supply chain. All concerned selected information and documents will automatically and securely be transferred to the new owner.
Now we come to the split phase. We told you it was a Smart Digital Twin, let's elaborate on that. Digital Twins can be split into several Child Twins; they each inherit all important information and documentation from their Parent. Parent items can be split and packaged into thousands of separate items and continue their way in the supply chain, each accompanied by all relevant data.
When split, then merge. You can create new Twins by merging 2 or more Digital Twins. When you add other ingredients to a Twin you merge and create a new product that holds all the attached data and information of the parent and becomes a new Smart Digital Twin.
All the history and data for each of these components is now available for you to be proved, viewed and analyzed. We provide a user-friendly way for you to view the complete Product DNA Tree of the raw materials of this specific product.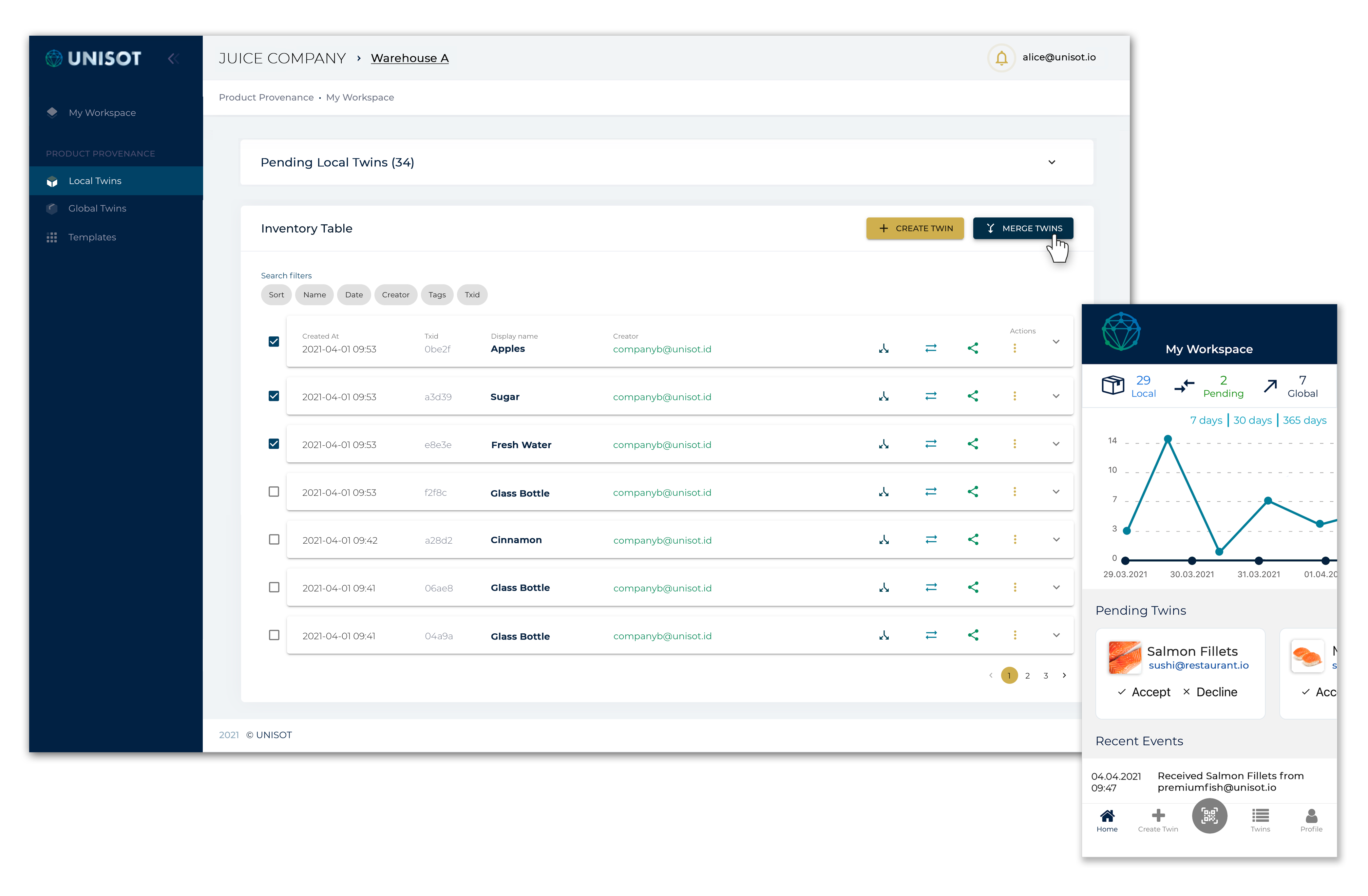 SHARE AND COMMUNICATE THE DETAILED HISTORY
You are now ready to share this in-depth information either as a private secure link, or as a public link for anyone to see. The public link can be scanned through a printed QR code or via an RFID that is incorporated in a product. When your customers or consumers scan the QR code or the RFID with their smartphone, you can show and prove the detailed history about the product they choose to purchase.
Another feature we added to this module is the ability to chat and communicate directly between all actors involved. No more excessive emails or text messages, not to mention the delays, costs and confusion they are causing. You can now exchange important queries, updates and urgent matters regarding specific assets, products or items all the way through a product's life cycle. Imagine how easy and efficient this auditable trail will be for all actors involved.
The Product Provenance module can be used via a desktop or mobile application. Management can direct asset flows, manage ownership transfers and receive instant KPI.  Field personnel can easily and securely add and report important information that cannot be collected automatically via IoT sensors or API integrations. 
Imagine what this could mean to you, as the creator and owner of this collected information, when you choose to sell this information and to what price. 
Let's connect and set up a time for a personalized demo, where we can show why and how easy we can improve the supply chain management for your company.
Annemie Bergmans
Marketing Manager UNISOT