Oct 18th, UNISOT was invited at Gröna Möten (Green Meetings) in Skara, Sweden. The topic of the evening was:
The digital Blockchain technology –
can technology behind bitcoin solve the need for traceability in the food industry?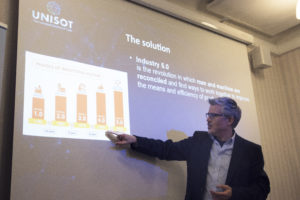 Stephan Nilsson, CEO and Founder of UNISOT
Ulrika Åkesson (Agroväst) presented the topics and speakers of this evenings seminar.
Jens Juul (Agroväst) presented how new digital technologies can support a longterm and sustainable agriculture.
Professor Andreas de Blanche from Western Norway University of Applied Sciences (Högskolan i Väst) explained when and why the blockchain and cryptocurrency technology was created and how it works, and which use cases and applications we can look forward to.
Our CEO and Founder, Stephan Nilsson, explained what blockchain is all about on an industrial level, and how merging UNISOT – as a blockchain platform – in the ERP systems can help all partners in the global supply chain industry become more effective, cut costs and monetise the information in their data warehouses. He used concrete examples from a current project in the seafood industry in Norway where UNISOT is providing functionality for global traceability and secure information exchange between supply chain partners with the help of blockchain technology.
Ove Konradsson (Agroväst) presented a Q&A on how the blockchain technology will influence and develop the food chain and its processes.
Stephan Nilsson (Unisot), Ove Konradsson and Jens Juul (SmartAgri)
The guests this evening were people from all kinds of agriculture industries and backgrounds, from small and medium sized companies. Some of them already understand that this new technology could become very important for their company in terms of lower costs, lower fees, trust between partners, secure information sharing, …
A new report by the Capgemini Research Institute claims that blockchain could become "ubiquitous" by 2025, entering mainstream business and underpinning supply chains worldwide. "Through investment and partnerships, the distributed ledger technology will dominate manufacturing as well as consumer products and retail industries, ushering in a new era of transparency and trust," gushes the research team. Chris Middleton from Internet of Business states in his article that the report predicts that blockchain will enter mainstream use in supply chains by 2025, in a wave of transformation that will begin rising in 2019, as experimental programmes come to an end.
At some point companies will have to realize that they need to look into the multiple benefits that come with this digital revolution, not only for their own gain but because the market, competition, governments and not least, the consumers, will force them to take positive actions. Over the years we have noticed an increasing awareness amongst consumers when it comes to wanting to know where their food is coming from, how it was treated, if it has been grown or produced in a sustainable and environmentally responsible way.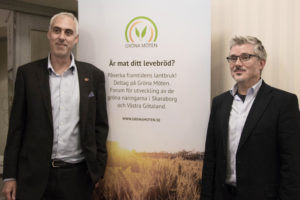 Dr. Andreas de Blanche (Western Norway University for Applied Sciences)
and Stephan Nilsson (Unisot)
Thank you Gröna Möten for inviting us!
Caroline Nilsson, Annemie Bergmans
<-
What is MoneyButton?
<-
Enable it in Safari & IOS