TRUTH. TRANSPARENCY. TRUST.


ENTERPRISE SUPPLY CHAIN SUSTAINABILITY PLATFORM as a SERVICE
TELL YOUR STORY FROM SOURCE TO CONSUMER
The UNISOT Platform enables your company
to prove to your customers and end-consumers
That your products are Sustainable
The Origin & Provenance of your products
The Quality & Safety of your products
The Ingredients of your products
The Environmental impact of your products
That your products are Ethically sourced
Want to know more about which advantages and benefits UNISOT
could add to your company?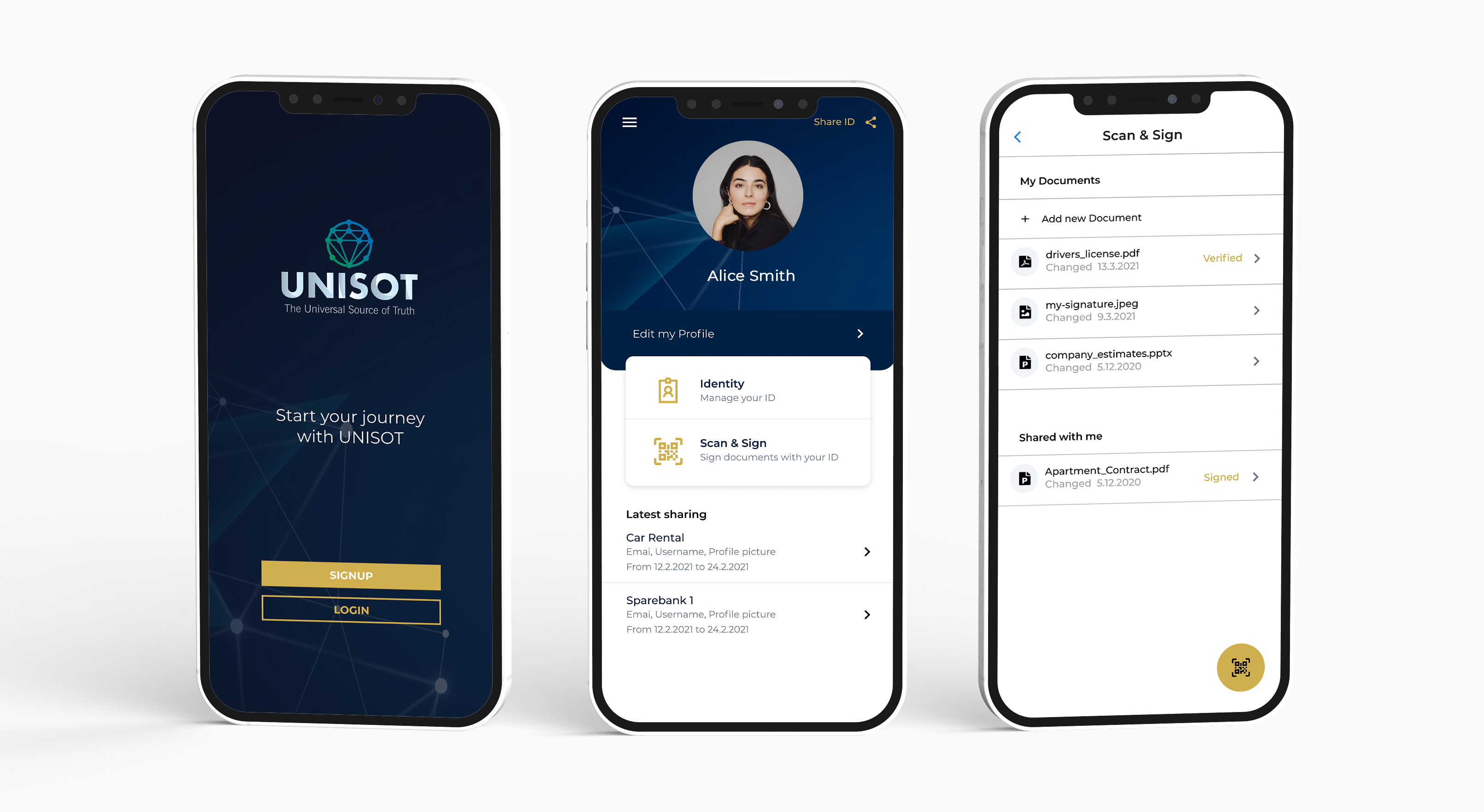 THE LEADING TECHNOLOGY FOR SUPPLY CHAIN SUSTAINABILITY
UNISOT is a very cost-efficient, secure, scalable Platform as a Service. With our "Zero-Barrier-of-Entry" vision and no capex required we enable and incentivize every and all supply chain actor; from the single farmer or carpenter to the largest multinationals, to participate in the Open Global Data Layer (The Universal Source Of Truth) that the UNISOT platform offers.  
UNISOT is Software-as-a-Service (SaaS) providing a Self-Service Platform where you, after being registered and verified as a legitimate business, get access to your own UNISOT instance. The UNISOT instance can be hosted in the UNISOT cloud or in your own cloud, alternatively on your own on-site.
The Self-Service Platform enables you to manage your company account, your company organization, its users, integrations, transactions and billing, as well as explore and manage additional modules and functionality that you can subscribe to.  
KEY FUNCTIONS
UNISOT provides several key functions which are crucial in today's Lean/Just-in-Time Global Supply Chains, supporting their growing demand on speed, flexibility, sustainability and information accuracy.
· Proof of Sustainability
· Proof of Quality
· Proof of Origin
· Proof of Ingredients
· Chain-of-Custody
· Track & Trace
· Product-Lifecycle-Traceability
· P2P Connectivity
GLOBAL
360° CONNECTIVITY
Our Enterprise platform provides a cost-effective and secure P2P collaboration network for all size actors in global supply chains. Allowing true 360° connectivity and visibility beyond today's 1-tier information limitation. Our ERP plugins offer secure B2B business process integrations. 
TOKENIZE
SUPPLY CHAIN ASSETS
Our Smart Digital Twin technology allows real-world physical assets/products to have a true digital representation in the global public blockchain, enabling secure data management, information monetization and ownership transfers. 
PROOF OF QUALITY & SUSTAINABILITY
Our
Product Provenance s
olution
s
enable
all supply chain participants to prove
the value
s
they
are
delivering to the
value
chain
,
with f
unctionalit
ies
such as Proof of
Q
uality, Proof of
Content, Proof of Origin
,
Proof of Sustainability
and
Proof of
Fairtrade
.
PROOF OF QUALITY
IN E-COMMERCE
Our
Product Provenance solutions enable
manufacturers
and retailers
in t
he e
–
commerce industry
to
communicate and
prove Product Quality
and P
rovenance
,
mitigating the
customer
's
wish
to feel, taste
and
test
the products in a physical store
to determine the
quality
.
INDUSTRIES
Each stage of global supply chains is effectively a different industry, for example, raw material extraction, refining & processing, logistics, manufacturing, distribution, retailing, consumers and recycling. The UNISOT Enterprise Supply Chain Sustainability Platform supports all industries included in global supply chains. Companies of all sizes, from a single farmer to large multinationals, can benefit from cooperating on the global data ledger by the applications and solutions powered by UNISOT.
Read more about our two initial Industry Solutions; SEAFOODCHAIN provides solutions for the Seafood and Aquaculture Industry, and ABENDUM provides Triple-Entry Accounting as a Service, both powered by UNISOT.
The start of the industrial revolution waves goes back to 1780 with water and steam power (IR 1.0), evolved to electric power in the 1900 (IR 2.0), then computers & electronics in the 1970 (IR 3.0), next public Internet in 2000 (IR 4.0) to today's public Blockchain, Machine Learning, Augmented Reality, 3D Printing (IR 5.0). The Public Blockchain is the required common global economically incentivized data layer interconnecting all these technologies together.
UNISOT's Enterprise Blockchain Platform provides access to the Global Public Data Layer that is required for business processes to seamlessly integrate across organizational borders.
"With the UNISOT partnership we are strengthening our eMRB®
(electronic Manufacturing Record Book) service by securing the
authenticity, integrity and storage of the
Manufacturing Records in the public Blockchain."
– Bjørnar Torsnes CEO CodeIT
"With the UNISOT partnership
we strengthen our commitment to support
Enterprise level Transaction Processing and Data Storage."
– Jerry Chan, CPO TAAL