Thianis Apparels Implements UNISOT's FashionOnChain for Supply Chain Traceability
As the demand for sustainable garments rises, Thianis Apparels, a Bangladesh-based company, has partnered with UNISOT to pioneer an end-to-end traceability solution. This implementation is set to revolutionize the garment industry, offering transparency and quality assurance that will establish new standards in equality and sustainability.
Based in the export Processing Zone in Chittagong, the port of Bangladesh, Thianis Apparels' production facility reflects its commitment to environmental stewardship. Employing advanced technology, the company ensures a sustainable approach to garment manufacturing.
Global Standards and New Regulations
UNISOT's FashionOnChain solution enables companies to future-proof their supply chain to meet industry standards and new regulations through 360° interoperability and a 'Universal Source of Truth'. UNISOT's Smart Digital Product Passport (DPP) provides complete transparency on product provenance, composition and life cycle.
Using FashionOnChain, Thianis Apparels can prove the premium quality of its garments, trace its origin and provenance, efficiently meet regulatory requirements, and engage with sustainability-conscious customers through direct feedback via the Smart Digital Product Passport.
Context
Thianis Apparels exports 100 % of their garments and supplies the market with high-quality apparel while adhering to human rights and sustainable practices. Advanced technology governs every stage of the manufacturing process, ensuring environmental and social consciousness in every aspect.
The Challenge
The garment industry faces a challenge in proving sustainability and social responsibility. In their pursuit of sustainable garment practices, they must meticulously document each step of the manufacturing process and adhere to reporting requirements. Transparency on origin and manufacturing processes is crucial to strengthen connections with customers and offer proof of garment quality and sustainability.
Finding a Solution
Recognizing the urgency to tackle these challenges, Thianis Apparels turned to UNISOT and their FashionOnChain solution. Powered by advanced Blockchain and AI technologies, UNISOT provides Smart Digital Twins that hold detailed product life cycle information for each garment. This enables Thianis Apparels to provide the desired level of traceability and transparency on origin, provenance and process standards to customers and relevant entities, and provides verifiable evidence of their genuine commitment to social responsibility, employee well-being and security. This showcases their efforts in a transparent manner, instilling trust and confidence in their approach to employee care. 
The UNISOT Smart Digital Twins encapsulates a wealth of information for each garment, from production to sourcing of materials. By securing an immutable record of this data on the Blockchain, Thianis Apparels can securely and seamlessly share it with relevant parties, allowing customers to gain insight into the garment's journey with a simple scan of a secure QR code or RFID to access the Digital Product Passport in their mobile phone.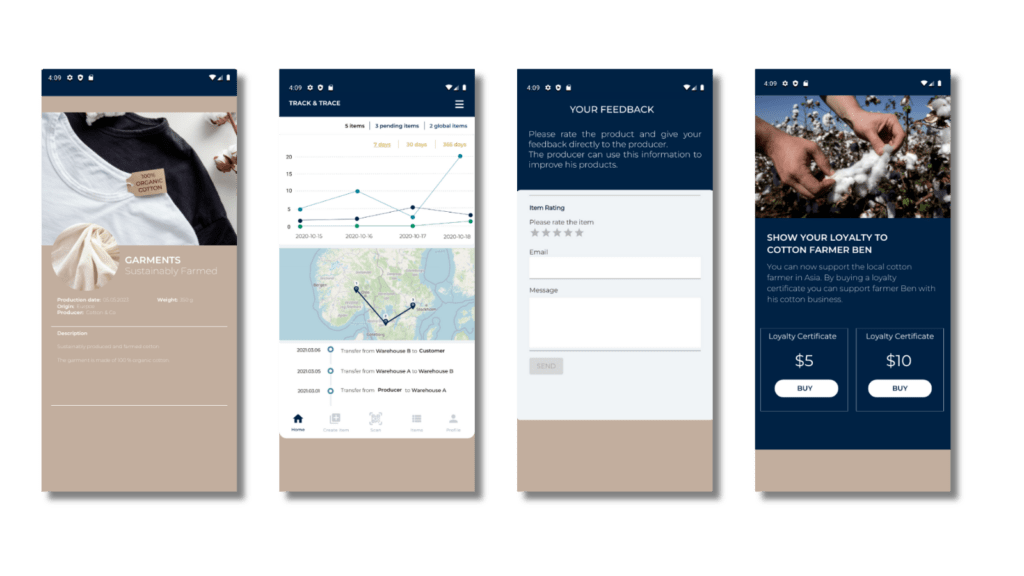 Value-Added Benefits
In addition to regulatory compliance, Thianis Apparels plans to leverage the customer communication channel offered by the UNISOT Smart Digital Product Passport. This allows them to strengthen their connection with customers through feedback and brand marketing, fostering consumer trust and confidence in their commitment to sustainable garment practices.
"UNISOT's FashionOnChain provides a comprehensive and transparent approach to track and manage our garment manufacturing process, ensuring that we maintain the highest quality standards and comply with regulatory requirements. The UNISOT Smart Digital Product Passport allows us to share our garments' extraordinary journey, from sourcing to our customers' hands, building trust and showcasing our unwavering commitment to building a greener supply chain model." – Asraarur Rahman Khan, Head of Product Development at Thianis Apparels
A new Era of Trust
UNISOT's collaboration with Thianis Apparels marks a new era of trust, transparency and accountability in the garment industry. Through the FashionOnChain solution, Thianis Apparels can showcase their sustainable manufacturing practices, efficiently meet regulatory demands, and build consumer trust in the provenance and standards of their garments. In a world focused on responsible sourcing and environmental impact, this collaboration sets the stage for a greener and more sustainable garment industry.