PROVE YOUR STORY
Enable your company to prove to your trade partners and end-consumers;

That your products are Sustainable
The Origin & Provenance of your products
The Quality & Safety of your products
The Ingredients of your products
The Environmental impact
That your products are Ethically sourced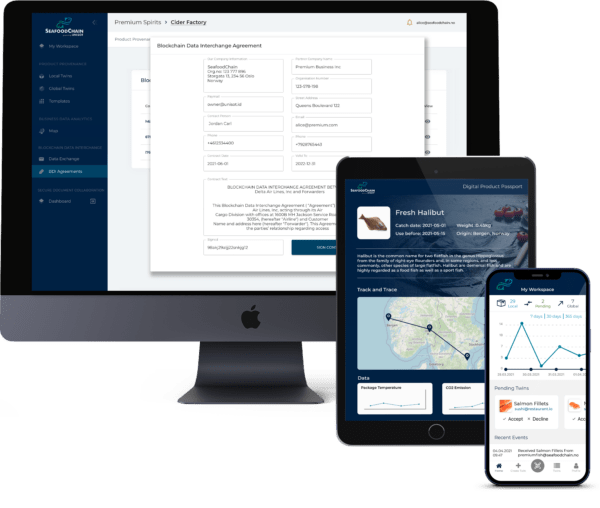 THE SEAFOODCHAIN WEB3 PLATFORM
The SeafoodChain™ platform is specifically targeting the global Seafood Industry by providing industry specific functions, standards and data templates built on the UNISOT Web3 Platform. The compliance to legislations and the increased focus on food safety and consumer awareness raises the need to adopt business practices and standards that will aid the seafood industry's ability to track and trace from Sea to Plate, throughout the global seafood supply chain. The SeafoodChain™ platform provides functions for seafood producers and distributors to prove Product Quality, Product Provenance, Product Sustainability and Food Security on an individual packet level, replacing the need for expensive and often ineffective quality certificates.
FROM SEA TO PLATE
The seafood supply chain can be anything from a fisherman catching fish in the sea, or the DNA history of the fish eggs at a fish hatchery, throughout breeding, feeding, environmental conditions, harvesting, processing, distributing, retailing, preparing and recycling. The SeafoodChain™ system enables data-capturing and -monitoring from all parts of this supply chain; from a fisherman's smartphone app or extracting data from fish egg production plant, to automatic IoT sensors, Computer Vision, ERP-Plugins, Big Data Analytics and Machine Learning.

ROE/HATCHERY
Information regarding DNA and environmental conditions about the roe is captured and stored in Smart Digital Twins by the roe producer. The hatchery sequentially continues to add important information such as transfer dates, fertilization data, water PH, nutrition and ecological circumstances, etc.
BREEDING
At breeding facilities information such as the feed brand/quality, environmental conditions, mortality rates and energy consumption is captured and added to the Smart Digital Twins. At the growth facilities information can be captured down to individual fish levels.
HARVEST
Information such as time, locations, batches, weights, vessel id's, methods, returns, waste, etc. is registered to their corresponding Smart Digital Twins.
PROCESSING
Important information about the received raw biomaterials is useful for the processor to effectively plan and efficiently handle the production. Production plants consecutively add information about time, locations, processes, temperatures, energy consumptions and waste materials to the respective Smart Digital Twins.
DISTRIBUTION
Cold chain management is critical for maintaining quality and value. Information is securely stored in the Smart Digital Twins from for example IoT sensors, Transport Management Systems and Mobile Apps.
RETAIL
The retailer now has access to valuable product information such as Sustainability, Provenance, Quality and Brand information. They can add additional information about their handling of the products such as storage temperatures, processes, energy consumption, waste, etc. This information can be important feedback to the producer as well as the consumers.
CONSUMER
By connecting every single product package with its Smart Digital Twin by a unique QR code or RFID chip, consumers can get detailed, verified information about the Ingredients, Quality, Provenance, Sustainability and Brand for the specific individual package they are holding in their hand.
RECYCLING
To close the complete product life cycle, information about recycling, waste management and reuse can be stored in Smart Digital Twins to enable life cycle-traceability, life cycle-management and sustainable reuse of resources and materials.
GLOBAL VISIBILITY AND IMPROVED COLLABORATION
One of the biggest concerns in seafood supply chains is the lack of accurate information and global visibility across company borders as companies are often challenged with trusting secondhand information from their immediate supplier about their products' life cycle history.
SeafoodChain, powered by UNISOT, enables information to effortlessly be exchanged between all supply chain actors. Information is allowed to travel peer-to-peer between stakeholders forward and backwards through the entire supply chain.
Global supply chains are becoming increasingly complex due to a constant growing number of products, customers, channels and geographies. Customers expect faster lead times, expanded products/services and tailored experiences. This forces companies to support tailored customer orders, requiring greater collaboration with partners, improving inventory management with suppliers, and deeper visibility and control into all supply chain steps.
GLOBAL INVENTORY MANAGEMENT
The GIM module enables you to get visibility of all moving parts and be in control of your incoming supplies and outgoing products. UNISOT GIM is an extension to your internal ERP's Inventory Management Systems and Warehouse Management Systems, enhancing your viewpoint outside of your own organization. UNISOT GIM lets you connect to your suppliers and sub-suppliers to get advanced notice of any misalignments, as well as enable you to track & monitor your products on their way through the supply chain to the end client.
INDUSTRY SOLUTION – SEAFOOD
IS-SF is compatible with seafood industry standards and procedures such as GS1 Global Traceability Standard (GTS) and ISO 12877/12875 "Traceability of finfish products". Standards provide a common language to identify, capture and share seafood supply chain data, ensuring important information is accessible and accurate. This module provides the tools required to obtain E2E global traceability from fish-eggs to consumer to recycling.
SUPPORTING NEW SUPPLY CHAIN REGULATIONS
The new EU Corporate Sustainability Due Diligence Directive imposes obligations for companies to ensure that their own activities and those of their supply chains comply with human rights and environmental sustainability criteria. The FDA Food Safety Modernization Act (FSMA) is transforming the food safety systems by shifting the focus from responding to foodborne illness to preventing it. UNISOT Supply Chain Due Diligence (SDD) module enables companies to map all their suppliers and sub-suppliers to ensure they comply with the EU Due Diligence directive as well as the FSMA.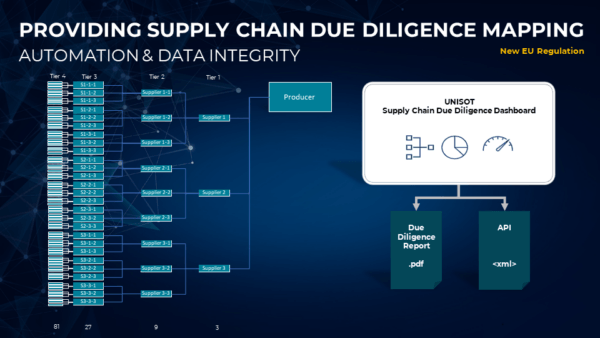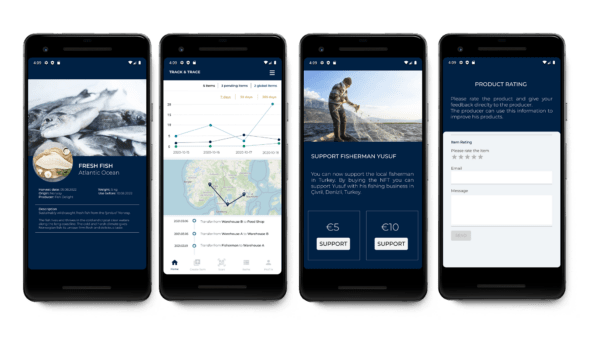 DIGITAL PRODUCT PASSPORT
The DPP module supports the new EU proposal on Sustainable Product Regulation including the "EU Digital Product Passport". Under the new regulation, the DPP must ensure that all actors along the value chain, including consumers, economic operators and national authorities, can access product information relevant to them, as well as include the necessary data attributes to enable the tracking of all substances of concern throughout the life cycle of the product.
DPP will also improve traceability of products along the value chain and facilitate the verification of product compliance by national authorities. UNISOT DPP extends these requirements by providing functionality for Deep Consumer Engagement, such as Consumer Communication Channel and Support Badges/certificates.
LIFE CYCLE ASSESSMENT
The LCA module is a solution for assessing environmental impacts associated with the overall stages of the life cycle of products in near real-time. Environmental impacts are assessed by collecting and securing important data from raw material extraction (cradle) and processing, through the products' manufacturing, packaging, distribution and use, to the recycling or final disposal of the materials composing it (grave).
BUSINESS DATA ANALYTICS
The BDA module provides operational insights in a flexible and intuitive visual user interface, providing fact-based management to drive decision making by providing answers to questions like: what is happening? what if these trends continue? what will happen next? and what is the best outcome that can happen? This module provides tools for continuous iterative exploration and investigation of past and current business performance to gain insight and drive business planning.
BLOCKCHAIN DATA INTERCHANGE
The BDI module is the modern evolution of Electronic Data Interchange (EDI), based on Public Blockchain technology, enabling Agile, Encrypted, Auditable and Cost-efficient exchange of electronic business messages (Peer-2-Peer) without any third-party systems or middlemen. BDI is based on Industry Standard message formats and ERP/IT-systems plugins to interconnect and streamline all Business-to-Business processes. Original EDI – Electronic Data Interchange has been in use since the 60s and was an automated computer-to-computer exchange of standard electronic business documents between business partners, commonly based on open text files that are sent via file transfers (FTP/SFTP) from sender folder to received folder.
IoT INTEGRATION ENGINE
The IEN module enables seamless integration with IoT devices and IT-systems that collect, generate or produce data and information that is important for the Product Provenance and Life Cycle Assessment. Example of IoT sensors data that can be captured and linked to the Smart Digital Twins are: Temperature, Location, Humidity/Moisture Levels, Pressure, Proximity detection, RFID and NFC tags.
SECURE DOCUMENT COLLABORATION
The SDC module is a Secure Document Collaboration and Notarization solution that enables users to upload, digitally sign, timestamp, countersign & encrypt, and securely store digital information such as Documents, Certificates, CAD-drawings, Contracts, as well as raw meta data in the form of json/xml in a Document Container that is secured in the Public Blockchain. The Document Container can be securely shared with other specific users or publicly, for a specified time period.
OUR SOLUTION
ENSURE FOOD SAFETY
SeafoodChain's 'Product DNA' functionality provides a Digital Thread that enables product traceability through the whole product's life cycle. This offers full control of your products' ingredients and elements, their quality, origin, provenance, locations, etc.
SURGICAL PRODUCT RECALLS
In the case of a detected bad production batch, you can securely and instantly alert the affected partners in the supply chain with detailed information about exactly what individual items are affected. Product Recalls enables you to exactly pinpoint the location of your products during their journey through the supply chain, and to recall or remove the affected products with surgical precision.
RECYCLING AND WASTE MANAGEMENT
Our solutions track products from the first raw producers to the logistics, the production distribution and all the way to the end-consumer. Each partner in the supply chain can provide and share detailed accurate information – leadingto sustainable and eco-friendly choices. This minimizes waste and improves the use of valuable natural resources.
GLOBAL STANDARDS
All parties in the seafood supply chain have a shared responsibility when it comes to ensuring traceability and compliance to new and extending regulatory requirements. Therefore, GS1 has developed Global Standard Guidelines to help the adoption of consistent business practices to effectively manage traceability for the seafood industry. SeafoodChain, powered by UNISOT, is a proud partner of GS1 and supports the GDST standards.
GS1 TRACEABILITY GUIDELINES FOR FISH, SEAFOOD AND AQUACULTURE
The increased focus on food safety and consumer awareness raises the need to identify and adopt business practices and standards that will aid the seafood industry's ability to track and trace and if necessary, recall products throughout the global supply chain. UNISOT supports the GS1 standards that creates a common foundation for businesses by uniquely identifying, accurately capturing and automatically sharing vital information about products, locations and assets.
GDST – GLOBAL DIALOGUE ON SEAFOOD TRACEABILITY
SeafoodChain supports the GDST standards enabling interoperability as well as increase predictability. GDST is built as an extension of the international traceability standard GS1 EPCIS that allows companies to integrate with GS1-based systems. The standards are adapted to facilitate regulatory compliance with import controls such as the US Seafood Import Monitoring Program and the EU IUU Regulation. GDST is identifying the minimum data elements that need to be documented and transmitted within GDST-compliant seafood supply chains.
Powered by UNISOT
UNISOT is a Web3 Supply Chain Sustainability Platform as a Service built on over 20 years' experience in enterprise business integrations, aiming to change the future of global Supply Chains. It emerges from the well-established business processes in Enterprise Resource Planning (ERP) systems – such as SAP S/4 HANA, MS Dynamics 365, M3, Oracle, Salesforce, Sage X3 and IFS.
We enable enterprises of all sizes to leverage P2P blockchain benefits from within their current systems, making the instant product traceability during its product's life cycle secure and affordable.